ANTIGRAVITY BATTERIES ADV MICRO-START TIRE INFLATOR
Description:
The Tire Inflator Plus is a great little kit to bring on your motorcycle adventures. Just like the original tire inflator/air pump but this ADV kit includes an extra power cable (SAE to SAE) so you can run the inflator off your bike's battery tender charging pigtail. Extremely compact and easy to take anywhere, this mini air compressor also allows you to use your Micro-Start's 12V port to inflate your Car, Truck, Dirtbike or Motorcycle Tires no matter where you are. Compatible with XP-1, XP-10 or XP-10-HD jump-starters. The Micro-Start Air Pump has a helpful pressure gauge built-in and features an integrated LED light to aid you in dark nights or places. At a very small 5.5 x 1.75 x 6 inches and weighing only a pound, it's the perfect road accessory to keep in your vehicle or motorcycle saddlebag.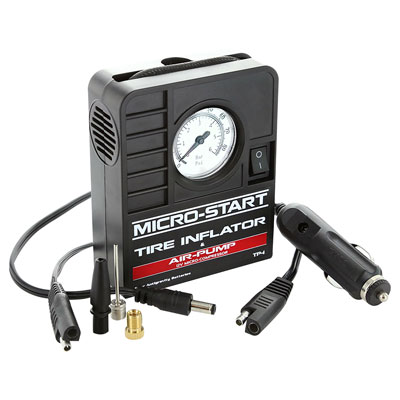 Features:
Size: 5.5" x 1.75" x 6" (140x44x152mm)
Weight: 16 oz (454 g)
12V DC Powered. Can be powered by battery's pigtail, vehicle's cig lighter port, or MICRO-START
NOTE: Always use proper tire inflation for your vehicle. This product is meant to be for emergency uses – the gauge is only accurate to within 3-4 lbs.
Kit Includes:
ADV TIRE INFLATOR / AIR PUMP PLUS to use with Micro-Start
6-ft Cable (SAE to SAE) to attach Inflator to bike battery's tender pigtail
12-in Cable (SAE to DC 5.5mm) to attach to Micro-Start's 12V output
9-ft Cable (SAE to Male Cig Lighter) to attach to car's cigarette lighter port – reaches any tire on typical vehicle when plugged in.
Needle Tip, for pumping up Sports Balls
Plastic Tip for Small Inflatables
Looking for even more? Check out our full selection of UTV accessories. If you need help finding what you're looking for, or just have general questions or comments, our dedicated sales and customer service team is on stand-by to answer any and all questions. We want to hear from you! Give us a call at 800-901-6136 or shoot us an email at Support@SideBySideGarage.Com.